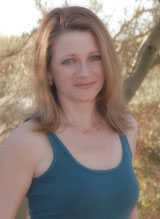 Eliza
has been performing readings for over 20 years. She has touched the lives of many with the intuitive messages from our guides including past loved ones.
Eliza has experienced intuitive abilities since she was a very young child and was able to visualize and hear messages for and from her family. A tragic accident occurred when she was 18 years old involving the deaths of her brother and father which motivated Eliza to further develop more of a connection with those on the other side.
Since then, Eliza has helped others connect with past loved ones providing loving intentions and counsel for others. She has assisted others with concerns and questions regarding family, relationships, work and health concerns. She has helped others in making more intuitive life choices. Eliza also is a writer, occupational therapist and mother of two.
Contact Eliza
for a very confidential, personal and inspirational intuitive reading. Reading are available in person or on the phone. Group readings are also available. Eliza also provides workshops for your organization on developing intuition for decision making skills.
You ponder and contemplate and you are not sure logically why you are unable to make this important decision like changing jobs or having children.

So what or who is it that assists and inspires us to make these important life altering decisions?

There are many learned behaviors that we have relied on throughout most of our lives. Some of us pray and trust. Some of us have doubts and mistrust. Some of us blame others.But we are the ones who make these decisions. We have the responsibility to yourselves to clearly walk forward with our decisions.

Have you ever thought that possibly some of our thoughts, emotions, gutt feelings or hunches; whatever you want to call them are information that our guides and angels from the other side are trying to assist us with this great adventure called living on the earth plane?



Intuitive Tools 4Kids. A program developed for parents and children by Eliza Rey.
This workshop has provided tools to assist children you have had intuitive/psychic experiences. Workshop is for parents and children.
Contact: to schedule a workshop.

Intuitive Tools 4Kids
A seminar by Eliza Rey
Over the past few years, many parents have shared with me experiences their children have had involving intuition. They also express that they don't know what to say to their children or how to handle them and have asked for my advice.
These children describe their experiences as if they are very real but we often question them thinking it is their imagination or confabulation; when in their reality these experiences are real. How often have you heard a 4 year old telling you with their uninhibited manner of speaking that they saw a recently deceased family member in your home? Their descriptions are detailed and very accurate. Or another situation in which a child has a dream of a deceased family member who gives them a message about another family member who soon passes. Or you hear of children who are have near death or fatal diseases speaking of their guardian angel who reassures them that their surgery or illness will all work out and thus eliminate their fears and giving them a sense of peace and confidence.
These experiences mystify us and also confuse most of us as adults. We have no real scientific explanation for what these children experience as of yet. As a result, we question how to handle these wonderful gifted children.
Eliza's is dedicated to assisting these children and their parents to accept and understand these experiences and their gifts .
Contact Eliza for consultation regarding Intuitive Tools 4Kids." For more information: intuitivetools4kids.com
Your information is very much appreciated.